1700's century property with the freedom of choosing new windows and doors.
When Mr and Mrs Verrill moved into their new home in the mid 1990's, they were surprised to learn that whilst some parts of the house dated back to the 1700's, the property was neither a Listed Building nor in a Conservation area. This meant that when it came to purchasing new doors and windows for their home in 2020, they had the freedom to choose whichever style they felt most suited their traditional home.
Over the years, they regularly painted and maintained their wooden windows. However, some 30 years later, some of the windows were now in very poor condition and had warped, making them difficult to open and close. In addition, a great deal of heat escaped through the draughty old windows.
Now retired, they wanted to do certain things to improve their home and considered that it was no longer economical to try and repair the majority of their windows and doors. They started looking for a company who could install traditional wooden windows and doors in a style which was inkeeping with the natural, historic charm of their home. They remembered that a family member of theirs had their wooden windows replaced about 8 years earlier by Timber Windows and that they still looked good and performed well.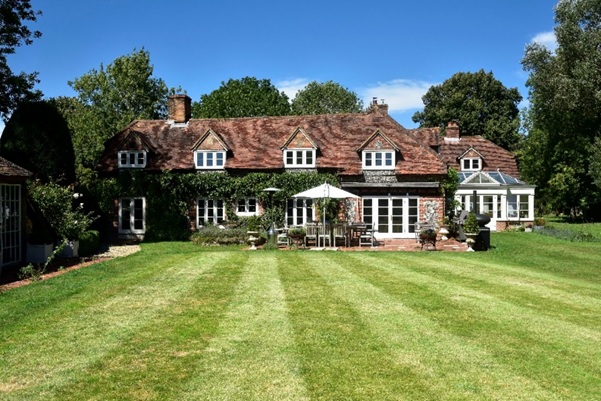 So, they called in to their local Timber Windows showroom in Hartley Wintney and discussed what they were looking for and began to make decisions as to which doors and windows to replace first, starting with those which were in the worst condition and letting the most heat escape.
Whilst the paint finish is available in a wide range of Farrow & Ball colours and can match any standard RAL colour, they decided that windows painted White would be the best match for their traditional home and completed the look with georgian bars to complement the existing aesthetics of the house.
Mrs Verrill said "Once Sherborne Windows installed the first phase of windows and doors, we noticed a massive difference in how the house felt much better in all weathers. Added to that, our oil and energy usage had dropped as a result. It was also a pleasure to be able to open and close the new windows without them getting stuck, so we made the decision to go ahead and replace quite a few more. We particularly liked that we were never put under any pressure by the showroom and were given plenty of time to make our decisions."