Sherborne Windows recognised as providing good customer service
In November 2019, when Mr and Mrs Gaughran decided to replace the front door in their new home in Hampshire, they decided to contact Sherborne Windows, due to the excellent Customer Service and attentiveness they had received in the past.
This would be the third time that Mr and Mrs Gaughran had contacted Sherborne Windows for new doors and windows.
Returning Customer for installation of doors and windows
It was in 2004 that Mr and Mrs Gaughran first approached Sherborne Windows to discuss the benefits of having French Doors which could open outwards onto the Patio area. One of the Sales & Design Consultants listened to what they had in mind and guided them through the various designs available. They also needed 3 new windows for their home and Sherborne Windows explained the differences between Aluminium and uPVC highlighting the features and benefits of both. Once a decision had been made, a surveyor visited their home and carried out a survey. The products were delivered a few weeks later and the installation team installed the doors and windows. Sherborne Windows communicated with Mr and Mrs Gaughran on a regular basis at every step of the way to ensure they understood exactly which products they had ordered and when they would be installed.
In 2005, when a further window was required, Mr and Mrs Gaughran again returned to Sherborne Windows because being looked after by a company who cared about getting the product and installation right was important to them.
Time to choose a new front door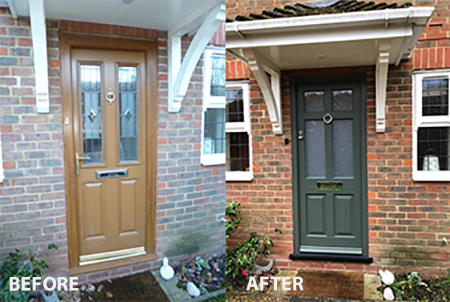 Fast forward to November 2019. Having moved into their new home and decided they would like a new front door; a door which would be a pleasure to look at, as well as being strong, secure and thermally efficient, they made contact with Sherborne Windows once again. Mr and Mrs Gaughran visited the Showroom in Farnborough with an open mind as to the style of their front door. They looked at the Composite, Aluminium and Timber Doors on display and really liked one of the wooden doors from a range by Timberwindows.com.
Mrs Gaughran said, "Good customer service is really important to me. When buying new windows and doors for my home recently, I didn't consider any other company.  They have great knowledge of their products, they listen to their customer, communicate well every step of the way and they care about getting it right."
Tim Long at Sherborne said, "We have really enjoyed getting to know Mr and Mrs Gaughran over the last 15 years. We understand that offering really good customer service with regular communication and problem solving when necessary is as important as providing our customers with a great product".