9 ways to modernise my conservatory
Do you have a conservatory installed at your home? If so, is it as comfortable and inviting as you would like it to be? Lots of homeowners are disappointed with the functionality and 'feel' of their conservatory. Poor temperature control and a lack of soundproofing are two of the biggest complaints we often hear from those who are unhappy with their conservatory.
At Sherborne, we want to help you to make the most out of your conservatory. Here are our suggestions to modernise your conservatory and make the most of your extra space.
Replace your conservatory roof
A replacement roof is a certified way to instantly improve the comfort and performance of your conservatory. Here at Sherborne, we offer 3 styles of conservatory roof replacement each with its own host of benefits.
Tiled conservatory roofs: A tiled conservatory roof gives a more permanent and 'extension-like' feel to your conservatory. They retain so much heat internally that they can attain incredibly low U-values of just 0.17 W/m2k, so your conservatory will never feel an uncomfortable temperature again and condensation will be a thing of the past.
If you have a glass or polycarbonate roof, no doubt you will have noticed audible sounds being made when the wind and rain come into contact with them. However, the beauty of tiled conservatory roofs is that they eradicate weather noise too, so you can relax in warmth, peace, and quiet all year long.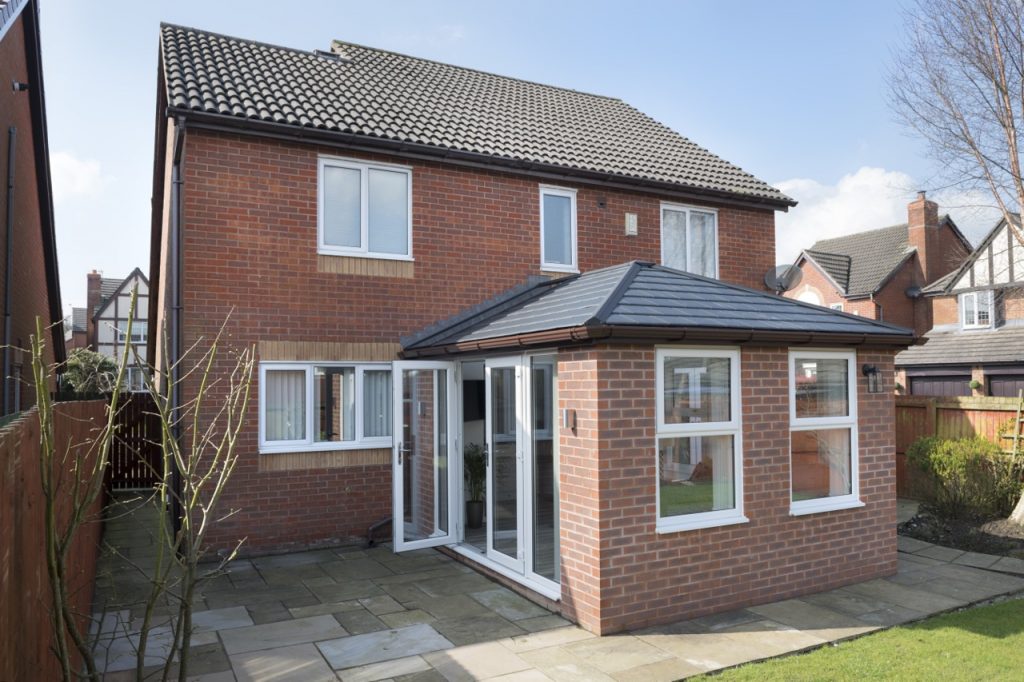 Solid conservatory roofs: Solid roof conservatories combine the largely glazed design of a conservatory with a hardwearing tiled roof, creating an environment that is beautifully lit and always feels a comfortable temperature. Achieving U-values of just 0.17 W/m2k, our solid roofs easily surpass the industry requirements for thermal performance. Plus, if you would prefer to have more natural light coming into the conservatory or glass extension, it is possible to add roof lights or full-length panels of glazing into their design.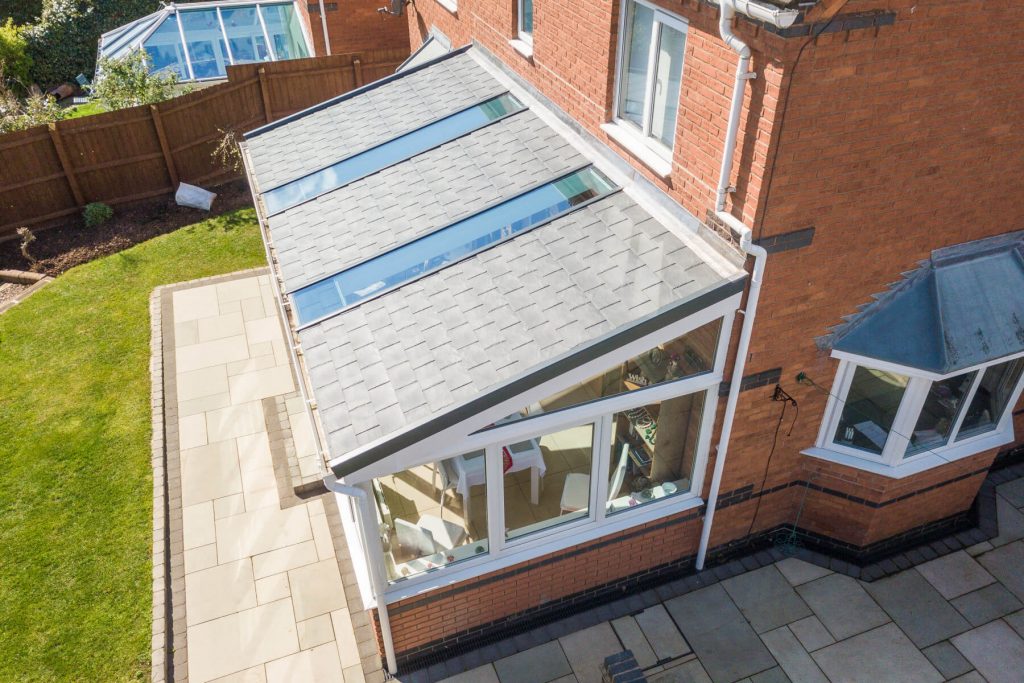 Glass conservatory roofs: Swapping out an old polycarbonate or glass conservatory roof for one of our high-quality, modern glass roof replacements is a sure way to give a conservatory a welcome performance boost whilst ensuring it remains beautifully lit throughout the year. Our glass roof replacements are weathertight, ensuring draughts and heat loss are eradicated immediately. They also come with low-e glass, which actively keeps the heat in the conservatory when it is cold whilst preventing it from overheating during periods of extensive sun exposure.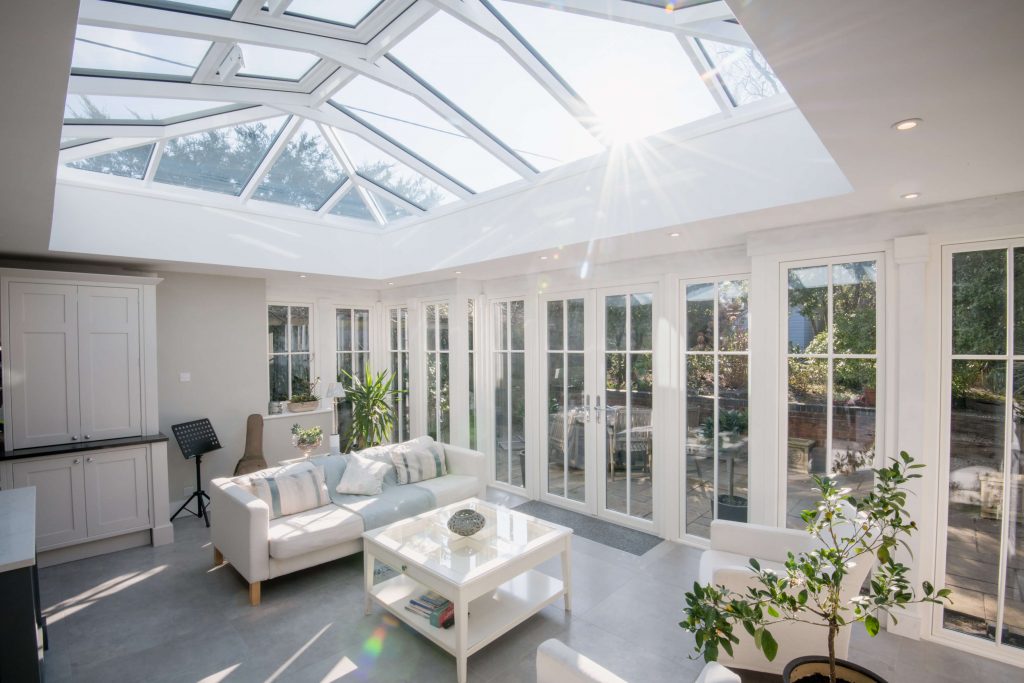 Other ways to modernise your conservatory
Conservatories are designed to let in an abundance of natural light. Obviously, plants thrive in these conditions. Bringing some nature indoors will create a lush natural area. The scent, look, and freshness of indoor plants are guaranteed to enhance your mood and create a vibrant living area
Create warmth with carpets and soft furnishings
Many conservatories have ceramic tiled floors which can feel cold and clinical, particularly in the Winter. A fitted plush deep pile carpet will provide warmth and make your conservatory feel more like an integral part of your home. If you want to try before you buy, a stylish rug will give the feel of a carpet without permanence.
Replacing your patio doors can have a huge impact on your conservatory. Swapping sliding doors for bifold doors or standard patio doors for French doors will create a new sense of space and modernity.
When the sun sets, does your conservatory feel unwelcoming because of a single source of lighting? Be creative and use a variety of lamps, spotlights, and coloured lighting to create atmosphere and ambiance.
Improve your interior by improving your exterior. The large glazed area of a conservatory demands a beautiful view to admire. Landscape your garden or add a water feature for an attractive aspect to appreciate.
Modernise your conservatory with Sherborne
We guarantee we can customise our replacement roofs to your bespoke needs and can assist and guide you through the whole process. Download our brochure, make an enquiry or contact our expert team today on 01252 370 917.