Sherborne is a finalist in two categories at the G23 Awards
The G Awards is an event dedicated to rewarding innovation and exceptional performance from the best companies and the best people in the UK glass and glazing industry.
Sherborne is delighted to have been shortlisted for two separate awards at the G23 Awards, namely, 'Unsung Hero Award' and 'Installer of The Year'. The Unsung Hero is Jeremy Hedger, Installation Director at Sherborne.
Jeremy, from North Camp in Farnborough, first visited the Sherborne showroom with his wife in 2002 and placed an order for a new conservatory. Having been impressed with the installation and professionalism shown, he approached Sherborne to discuss job opportunities and later joined the team in a carpentry role.
Since then, Jeremy has progressed through the ranks to his current position of Installation Director. Throughout these 20 years, Jeremy has been loyal and committed to the company and always goes one step beyond in supporting the business, clients, and those around him.
One such example is when an existing client telephoned the office to say that his 90-year-old father, Ron, was locked out of his bungalow and he asked if Sherborne would be able to help. Even though the door had been installed by another company, Jeremy stopped what he was doing and immediately called at Ron's home and found a way to rectify the issue. Jeremy spent some time adjusting the door to make sure it was in good working order before he left.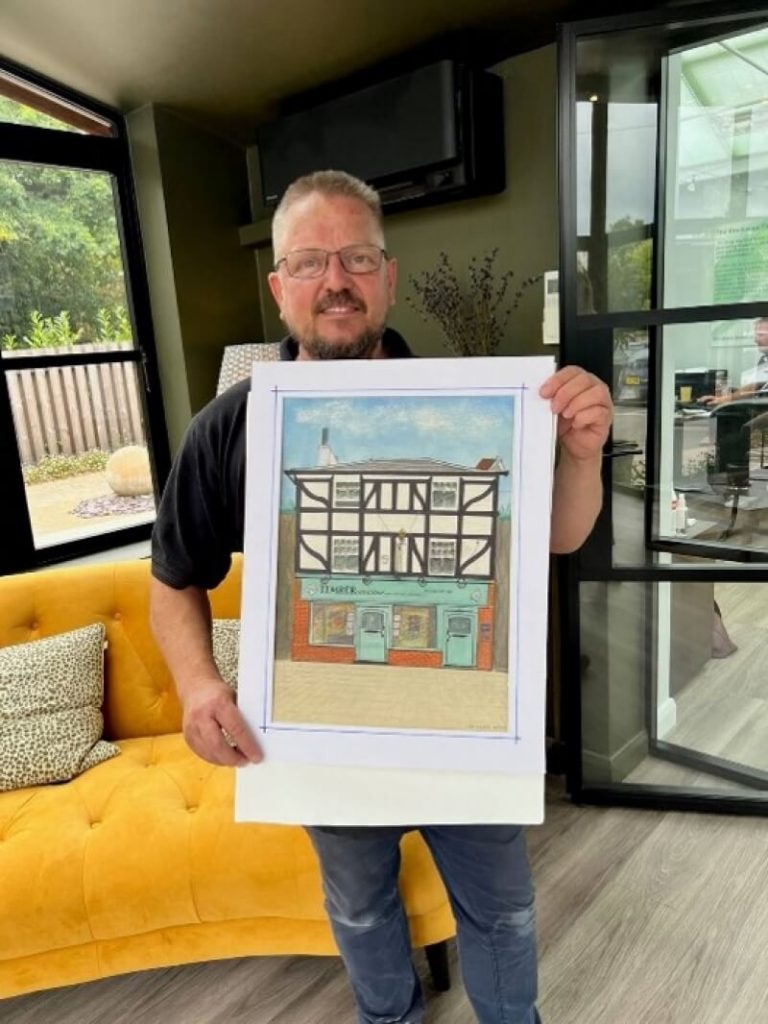 A few days later, by way of thanks, Ron called into the Hartley Wintney Showroom to present Jeremy with a painting he had created illustrating the front of the Showroom. This now takes pride of place on the wall.
In the early 1990's, when Chris Long decided to build his company, Sherborne, he decided that he would always try to look after and be fair to everyone the business had dealings with, whether they were clients, staff, or suppliers. Jeremy has the same company ethos, and this is the reason that Chris entered Jeremy into the Unsung Hero Category at the G23 Awards.
Jeremy has trained, mentored & helped progress many of Sherborne's staff who started as trainees and are now senior members of the team, this dedication to the business and his 'can do' approach to all he does and the positive effect that has on all those around him is invaluable.
Sherborne won a GGP Installer Award in 2022 and has become one of the most trusted names in home improvements over the past 30+ years throughout Hampshire, Surrey, Berkshire, and South-West London.
For more information contact us on 01252 370917 or email enquiries@sherbornewindows.co.uk.