What material is best for bifold doors?
Bifold doors are an excellent choice for homeowners, the large panes of glass allow your home to be filled with gorgeous natural light whilst protecting your home from British weather. At Sherborne Windows, we offer bifold doors in three distinct materials, aluminium, timber, and uPVC, so that you can decide what will work best for your home. Deciding between the three can feel like a difficult task when you don't have all the information which is why we've created this helpful guide on the best material for bifold doors.
We've created this comparison table to assist you in making your decision:
| | | |
| --- | --- | --- |
| Aluminium | Timber | uPVC |
| Ultra-slim sightlines | Offers timeless, natural beauty | Highly versatile choice |
| Modern & contemporary appearance | Elegant appearance | Fantastic timber alternative |
| Virtually maintenance free | Requires some upkeep & maintenance | Low maintenance |
| Have a life expectancy of 45 years | When properly cared for can surpass 50 years | Will last between 25-35 years |
| Endlessly recyclable | Sustainably manufactured using a renewable source | Can be recycled up to 10 times |
| Double glazed | Double glazed | Double glazed |
Aluminium bifold doors
An aluminium bifold door is by far the most popular choice among British homeowners, the ultra-slim sightlines ensure maximum light fills your room whilst you take in a gorgeous view of your garden.
Aluminium is naturally rot resistant and extremely solid it is able to withstand extreme and ever-changing British weather conditions even when it is installed in weather exposed areas. As its strength does not waiver over time, it makes for a secure entranceway to your home. All our aluminium bifolds are fitted with multi-point locks and a range of other advanced security features to put your mind at ease.
Our aluminium bifold doors are all manufactured using a polyamide thermal break to prevent the temperature outside from affecting the temperature of your home, the thermal break acts as a heat trap within the frame. You'll find that your home is now comfortable all year round, as well as noticing a drop in your energy bills.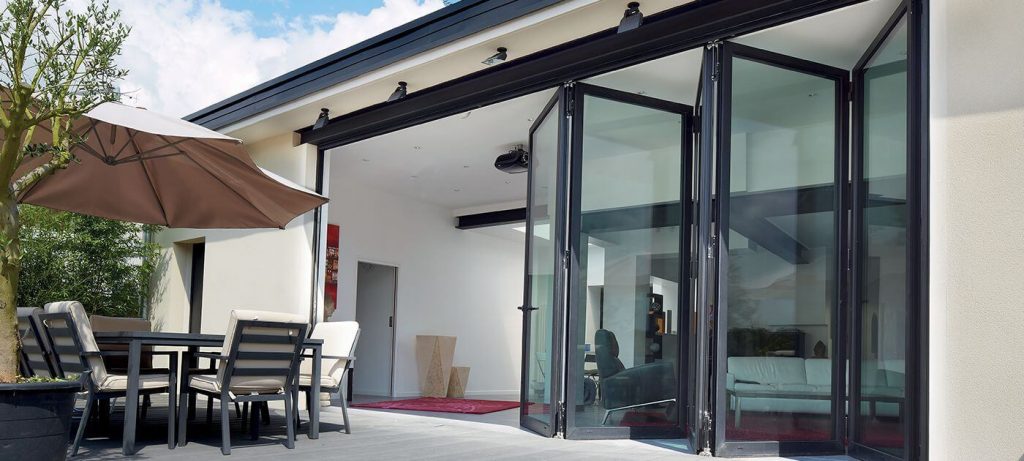 Timber bifold doors
Timber isn't always seen as a popular choice for bifold doors, but they're able to bring a sense of timeless sophistication to your home that is hard to recreate with other materials.
Timber is a natural insulator which means the energy efficiency of a timber bifold door is exceptional especially when manufactured with high quality double glazing. You'll notice a visible decrease in your energy bills as your home will take less energy to heat and will stay cooler in the summer.
Our timber bifold doors are designed with security in mind, they're all fitted with multi-point locking systems to secure the door into the frame eliminating weak spots around the door. We also offer industry leading locking hardware options that you can choose from. To talk further about our security options, you can either give us a call or visit your local Sherborne Windows showroom.
uPVC bifold doors
uPVC has grown to become one of the most popular building materials for home improvement products. What was once known for being the 'cheap white' white option has become one of the most versatile and durable options. At Sherborne Windows, we offer over 100 colour options and finishes.
Advances in uPVC have ensured that is resistant to rotting, warping and discolouration which allows uPVC bifold doors to look great and remain secure for years to come. They're perfect for creating a contemporary appearance whilst bringing the outside in.
Our uPVC doors are manufactured using an innovative multi-chambered design for a thermally efficient door that is able to reduce your energy bills whilst keeping your home warm in the winter and cool in the summer.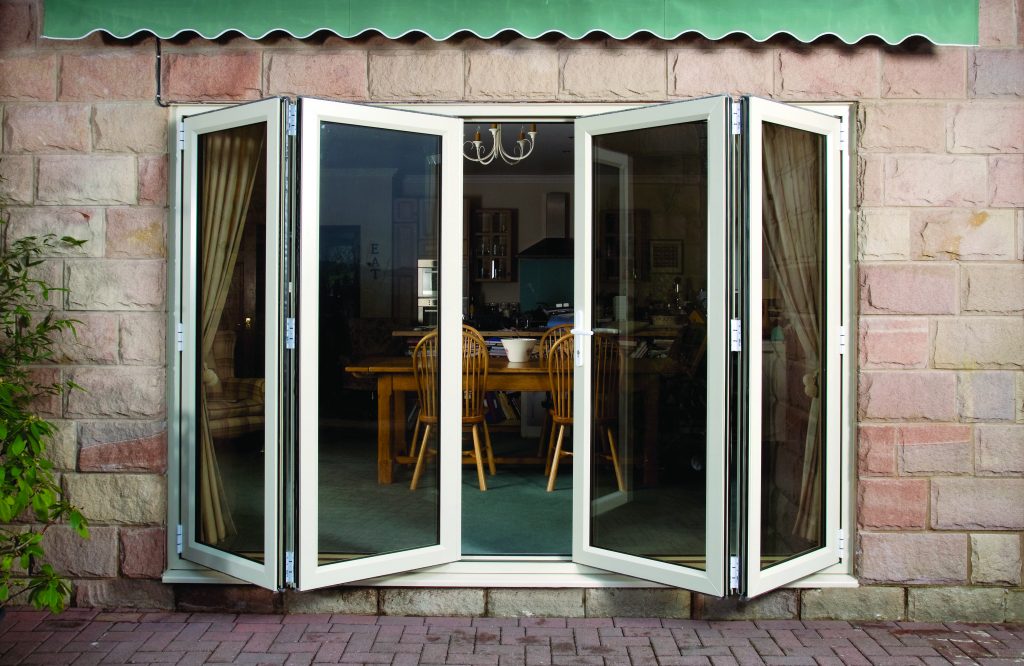 So, which material is best for bifold doors?
All three materials have exceptional benefits and whichever you choose you can be sure you're receiving a high performing bifold door. The real answer is there is no best material, it's completely down to your own personal taste, your wants and your budget. A member of our expert team will be more than happy to advise you on the best option for you.
Contact us online for your free, no-obligation quote or come and visit your local showroom to get a feel for our extensive range of products and discuss your project with our team.